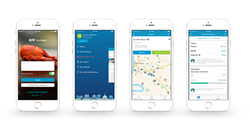 Baton Rouge, LA (PRWEB) May 08, 2015
As of today, Blue Cross and Blue Shield of Louisiana customers have streamlined access to their healthcare coverage information thanks to the latest release of the free BCBSLA app. The updated app is part of a digital strategy that makes it simpler for customers to interact with their health plan and helps them better understand plan benefits and terminology.
The app has a modern design with visual cues that alert users to helpful tips and definitions of terms in context at relevant moments. The app also builds a better experience using the concept of micro-moments.
This app is an exciting step in our digital transformation because its our first time experimenting with micro-moments, said Natalie Straight, manager of Blue Cross Digital Experience team. The app goes beyond traditional experiences with simple, yet thoughtful touches, like taking a steamboat ride down the Mississippi while information loads. Or a friendly nurse avatar appears at key moments to provide definitions of healthcare terminology, making it easier to understand.
The app is authentically Louisiana, delightfully human and groundbreaking in simplicity, said David Le, senior user experience designer. This is a flagship example of Blue Cross new approach to digital tools.
Core features of the app include: