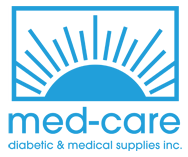 Boca Raton, FL (PRWEB) October 31, 2014
Med-Care Diabetic & Medical Supplies, Inc., a leading wellness company founded on the highest principles of patient care and service, announced a new partnership with Lifescript, a leading health and wellness website, to provide an online Diabetes Health Center for those living with diabetes.
The Diabetes Health Center will provide topical information featuring news, physician consults, tips and recipes for those living with diabetes. Content will feature advice from leading medical experts and nutritionists and be promoted through Lifescript newsletters, emails and social media platforms. The Diabetes Health Center will be readily available to Lifescript readers as well as the more than 350,000 Med-Care patients.
More than 29.1 million Americans are living with diabetes according to the American Diabetes Association. Type 2 diabetes remains a common and prevalent illness that is commonly undiagnosed. There is an urgent need for relevant and news based information on diabetes and Lifescripts Diabetes Health Center makes it all available to users on one easy-to-navigate online platform.
"Managing Type 2 diabetes is a full-time job," says Christian Pran, senior vice president of sales at Lifescript. "As the leading publisher of online health content, we're excited to partner with Med-Care on this important educational resource to help patients live well with the condition."
We are thrilled to embark on this partnership with Lifescript to provide a Diabetes Health Center, said Steve Silverman, founder and CEO of Med-Care. Over 4 million users have already opted in to receive news and information about diabetes from Lifescript and were happy to sponsor content that will prove to be a valuable resource for both Lifescript users and Med-Care patients.
ABOUT MED-CARE DIABETIC & MEDICAL SUPPLIES, INC.:

Med-Care Diabetic and Medical Supplies is a leading wellness company, founded on the highest principles of patient care and service. Med-Care helps patients manage their chronic conditions by providing cost-effective, high-quality medical and pharmacy supplies delivered directly to their homes.
Established in 1999 by Dr. Steve Silverman, the company has more than 500 employees and serves more than 350,000 patients from its headquarters in Boca Raton, Florida and distribution centers in Florida and Tennessee. Med-Care is accredited by The Joint Commission (T.J.C), the most prestigious accrediting organization recognized by Medicare. Since its inception, Med-Care has been an accepted provider for Medicare, Medicaid and hundreds of private insurance companies nationwide. The company follows Medicare billing guidelines meticulously. For more information on Med-Care, visit medcareinc.com or call 1-888-777-0737.
ABOUT LIFESCRIPT:

One of the fastest-growing online health and healthy living publishers, Lifescript.com (http://www.lifescript.com/) attracts 10 million unique visitors monthly and is the leading website focusing exclusively on women's health. More than 7 million readers also subscribe to Lifescript's six daily email newsletters. The company is headquartered in Newport Beach, CA with offices in New York City, Chicago and San Francisco.