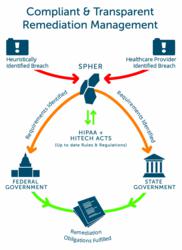 Torrance, CA (PRWEB) February 22, 2013
According to the Ponemon Institutes Third Annual Survey on Medical Identity Theft, there will be an estimated 1.85 million medical identity theft victims in 2012 (up from 1.41 million in 2010), costing each victim upwards of $ 22,346.
In addition to the importance of protecting patients privacy, healthcare providers face serious financial penalties for non-compliance of the HIPAA Security Rule. In fact, for violations on or after February 18, 2009, the fine is now $ 100 to $ 50,000 or more per violation, with a $ 1.5 million maximum.
To help healthcare providers reduce the risk of financial responsibility, AMS (All Medical Solutions), the healthcare division of Fusion Systems America, introduces SPHER Breach Detection & Remediation Service. SPHER is an affordable service that allows providers to review their EHR audit logs quickly and easily to meet HIPAA Security Requirements. SPHER removes the complexity and stress from breach-related compliance while helping mitigate potential litigation against healthcare providers and lowering insurance premiums for malpractice and cyber security.
Being 100 percent HIPAA compliant is very important, said Gina Shearer, Privacy Officer of MRI Centers. SPHER has allowed us to effortlessly and affordably meet that goal by handling the EHR-centric aspects of compliance. Our patients can feel more secure with the knowledge that we have done all we can to protect their private health data.
Key features of SPHER Breach Detection and Remediation include: