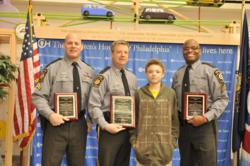 Philadelphia, PA (PRWEB) April 04, 2012
In recognition of April as National Donate Life Month, The Childrens Hospital of Philadelphia in partnership with Gift of Life Donor Program honored PA State Troopers Corporal Donald Hughes and Corporal Paul Roy with the Childrens Champion Award for flying patient Colin Vengen to The Childrens Hospital of Philadelphia during Tropical Storm Lee in September 2011.
Colin had been on the wait list for a new liver after being treated for hepatoblastoma, a cancer of the liver. When his family received the call that a liver was available, his family was shocked to learn that all three roads that would take them to The Childrens Hospital of Philadelphia were flooded. The Pennsylvania State Trooper Bureau of Emergency and Special Operations flew Colin and his family through the tropical storm to The Childrens Hospital of Philadelphia to ensure Colin could receive his lifesaving liver transplant.
The Childrens Champion Award, established by The Childrens Hospital of Philadelphia, honors individuals and/or organizations that improve the lives of children. Previous recipients include Governor Ed Rendell, Congressman Charlie Dent, and the National Association of Childrens Hospitals.
Donate Life Month is part of a national observance to increase awareness for life-saving organ, eye and tissue donations. Donate Life Month brings attention to the more than 1,800 children across the nation who are waiting for a potentially lifesaving transplant.
Each person who signs up as a donor can potentially save eight lives through organ donation, restore sight to two people through cornea donation, and improve mobility and health of up to 50 others through tissue donation. These are real lives that are being dramatically impacted by people who choose to become part of the registry.
Consider giving someone a second chance at life by registering to become an organ donor:

http://www.chop.edu/service/transplant-center/home.html